by David Rose Sweet used to open their shows with this tune which continues straight into Hell Raiser. On some occasions it's still used – like on the 50th anniversary show 2018 in Berlin. Look out !!!! "The Stripper" is an instrumental composed by David Rose, recorded in 1958 and released four years later. It […]
Is it finally time to give them the credit they deserve?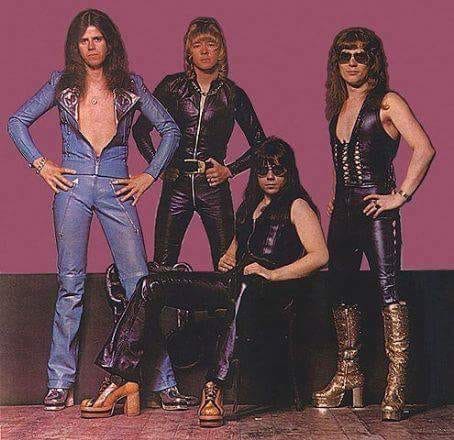 By Dave Ling October 25, 2017 From Little Willy to a six-foot, confetti spewing penis, The Sweet had it all… except for the credibility they craved. Were these critically derided glam tarts really rock gods after all? "We were like four dissipated old whores, mincing about on Top Of The Pops and churning out computerised pop, just being as […]
Andy Scott Sessions/Sabre Jet
Same Old Brand New, Delicious Records DEL 101, Tracks: Same Old Brand New / Never Trust A Blonde / Ramona / That's Not Really What Love's All About / No Justice / Getting By / Just Be true / Something I Can't Give Away / Pawn Shop / Rats / E2G / All Your Lovin' Produced […]
Andy Scott Sessions/Greg Lake
Chris Bradford and Andy Scott wrote the song "Famous Last Words" for The Album Manoeuvres, and both are on backing vocals for this particular song.
Andy Scott Sessions/Breathe
Chris Bradford and Andy Scott are on backing vocals on the songs "Hands to Heaven" And "If I Fall". Andy also played guitar on one of the songs on the "All That Jazz" album. 
Andy Scott Sessions/Monroes
The Monroes was a Norwegian rock duo that held significant popularity in Norway in the 1980s and Andy played guitar on their 1985 album Face Another Day.
Andy Scott Sessions/Sussex
Andy  produced their only album "Ends And Means" from this little known band Sussex. 
Andy Scott Sessions/A II Z