Andy Scott Sessions/A II Z
Andy Scott Sessions/Angel
The glam-rock band Angel was a concept from Andy Scott and Mick Tucker. The band was formed in 1974 from the members of Pebbles. Angel released 2 singles through Polydor and both compositions were written by Andy Scott who co-produced them with Mick Tucker. The singles were: "Good Time Fanny" and "Little Boy Blue".
Andy Scott Sessions/Tacye
Andy played guitar on Tacye's version of Love Is Like Oxygen from 1991. Tacye continues: "Cool! I hadn't heard that for ages and it was really good to re-visit the recording. Andy was a star through out the whole process." 
Andy Scott Sessions/Jim Keays
Andy co-produced two singles for Jim and he also played guitar and sang backing vocals on them. 
Andy Scott Sessions/Robert Lloyd
Robert Lloyd is the lead singer with The Nightingales and formerly with The Prefects. When The Nightingales split in 1986, Lloyd embarked on a solo career, signing to Virgin Records in 1989 and releasing the album Me and My Mouth. The album featured Steve Nieve and Pete Thomas (of The Attractions), Andy Scott and Craig […]
Andy Scott Sessions/True Brits
On this record – Ready to Rumble – meant for the Japanese market, Andy plays additional guitars and sing backing vocals.
Andy Scott Sessions/G.O.S.H.
This was recorded in 1987 to support a charity in aid of babies and children of the Great Ormond Street Hospital in London, UK. Andy Scott appear on vocals on this single along with Noddy Holder, Jimmy Nail, Danny Hynes, Mal McNulty, Bernie Shaw, Phil Lanzon, Boy George etc.
Andy Scott Sessions/Ole Evenrude
Ole Evenrude's debut album This Ole Town was produced by Geoff Downes. Mick Tucker & Andy Scott did the backing vocals along with Stevie Lange who of course appeared on the Sweets Level Headed Album. Mick also plays the drums on this album. Mick Tucker, Mal McNulty and Andy worked on the Idolator album at […]
Andy Scott Sessions/Sha-Boom
The Party Rockers SHA-BOOM covered SWEET's 'Fox On The Run' for their 1988 debut 'R.O.C.K'. Andy was also on hand to add some authenticity acting as producer and he also tackled production for the follow up, 1990's 'Let's Party', which included Ole Evenrude on backing vocals. 
Andy Scott Sessions/Paddy Goes To Holyhead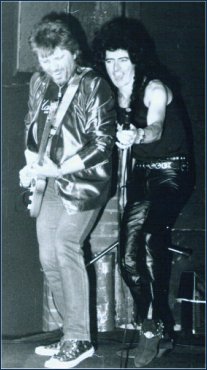 In the beginning of the 80's Andy produced some demos for a NWOBHM band called Weapon who were fronted by Danny Hynes. Later in the mid 80's he formed a new band called Paddy Goes To Holyhead. He got up and play with them occasionally. This lead to Andy producing and playing on some songs including a single. […]