Andy Scott Sessions/True Brits
On this record – Ready to Rumble – meant for the Japanese market, Andy plays additional guitars and sing backing vocals.
Andy Scott Sessions/G.O.S.H.
This was recorded in 1987 to support a charity in aid of babies and children of the Great Ormond Street Hospital in London, UK. Andy Scott appear on vocals on this single along with Noddy Holder, Jimmy Nail, Danny Hynes, Mal McNulty, Bernie Shaw, Phil Lanzon, Boy George etc.
Andy Scott Sessions/Ole Evenrude
Ole Evenrude's debut album This Ole Town was produced by Geoff Downes. Mick Tucker & Andy Scott did the backing vocals along with Stevie Lange who of course appeared on the Sweets Level Headed Album. Mick also plays the drums on this album. Mick Tucker, Mal McNulty and Andy worked on the Idolator album at […]
Andy Scott Sessions/Sha-Boom
The Party Rockers SHA-BOOM covered SWEET's 'Fox On The Run' for their 1988 debut 'R.O.C.K'. Andy was also on hand to add some authenticity acting as producer and he also tackled production for the follow up, 1990's 'Let's Party', which included Ole Evenrude on backing vocals. 
Andy Scott Sessions/Paddy Goes To Holyhead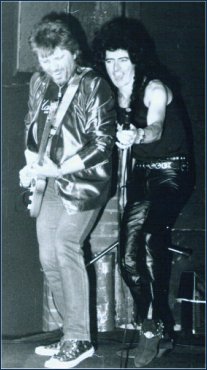 In the beginning of the 80's Andy produced some demos for a NWOBHM band called Weapon who were fronted by Danny Hynes. Later in the mid 80's he formed a new band called Paddy Goes To Holyhead. He got up and play with them occasionally. This lead to Andy producing and playing on some songs including a single. […]
Andy Scott Sessions/Suzi Quatro
In 2006 Steve Grant and Andy worked with Suzi Quatro, writing, playing and producing some songs on her album "Back To The Drive". Back To The Drive Track list: Back To The Drive, 15 Minutes Of Fame, Duality, I Don't Do Gentle, I'll Walk Through The Fire With You, Wasted Moments, Rockin' In The Free […]