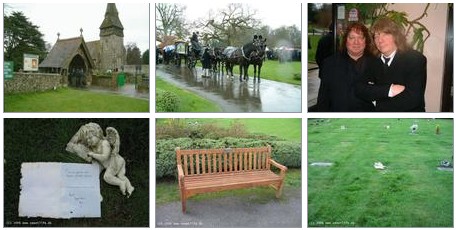 Mick died in hospital at 11.35am the 14th of February 2002. He had become unwell the Friday before and had informed friends he was going to see the doctor, but was then admitted to hospital on Saturday February 9th – a day we all remember, it being the anniversary of Brian's death. Unfortunately Mick's health went downhill and he passed away. With him were his family including his wife Janet, his daughter Ayston, niece Angela with her husband Martin.
Steve Priest: "I am afraid to have to inform everyone that Mick Tucker passed away about around midday today. It was from complications brought on by the leukemia he survived five years ago. Please respect his wife and family. We are all really devastated at his passing and will miss him dreadfully."
Andy Scott: "Mick Tucker was the best drummer around in the 70's. I played in the same band as him and was proud to do so. I feel extreme sadness therefore that he has now left us and my heart goes out to Janet and Ayston with their sad loss.Miss you Mick – and then there were two".
Mick's funeral took place at Chorleywood House Cemetery at 12.30pm on Monday Feb 25th.
Mick is buried in an un-named grave in Chorleywood. The location is 51 degrees 39.644 minutes North, 0 degrees 30.330 minutes West (WGS84). It is marked by a sleeping angel.
Rest in peace Mick.